New township gets electric lights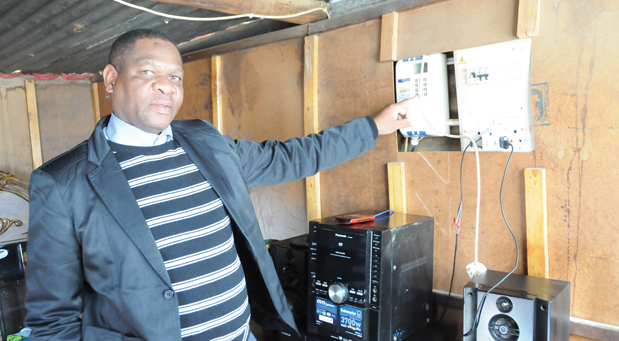 Residents of the newly established location in Qalabotjha Extension Eight near Villiers in the eastern Free State are enjoying the benefits of having electricity in their houses for the first time this year.
The location, which was formed in 2009 had no electricity and all other infrastructure related services. Mafube Local Municipality through the department of energy spent R5 million during its last financial year to electrify 694 households in the area.
During the visit aimed at inspecting the development on the electrification of households, one of the residents, Ntando Ntlhapo (27), told the municipality's executive mayor, Jabulane Sigasa, that their life is much better since the completion of electrification a month ago.
"We are happy to have been considered for electrification of our area. The project has changed our lives and gave us dignity. This is what we have been pleading for since the formation of this area and finally the municipality heard our request and answered," said Ntlhapo.
Extension Eight electrification project, follows the completion of 2 105 households electrification of towns such as Namahadi township in Frankfort, Tweeling, Cornelia and other extensions in Villiers in the 2013/2014 financial year.
Ntlhapo who stay in a shack, added that electricity came at the right time and they will avoid to use candles and paraffin.
"It is dangerous for us to use candles and paraffin now in winter because once you forget it at night it might cause fire that can kill you. Electricity will safe many people's lives," emphasised Ntlhapo.
Executive mayor, Jabulane Sigasa, said improving the life of the community is part of the manifesto.
"We want to prove to our people that we are committed to changing their life for the better because they demonstrated that they trusted us by electing us to lead them. I am also happy with the progress made by the contractor and the quality of work done," said Sigasa.
He said funding of R1 million was made available by the department of energy to help the municipality build the substation in Namahadi.
"We have completed building that substation to ensure that the area of Namahadi does not experience power cuts due to heavy load. This is because of the increasing population in the area and a new township which was formed by people coming from surrounding farms and areas," added Sigasa.
Another R6.7 million was also spent on connecting electricity to the households and building another substation in Qalabotjha while 300 households were completed in Mafahlaneng.